Frank Carbajal is Founder and President of Es Tiempo, LLC. "It's Time", Founder of the Silicon Valley Latino Leadership Summit, which brings the Top Thought Leaders throughout the Country to Silicon Valley.
Sign up for our weekly updates.
Catch up on the latest post of insightful thought leadership.
Providing Latino/a leaders a platform to share their experiences to a broader audience
Contact us for Keynote or event speaking engagements
Read our engaging library of books written and inspired by Latinos in Business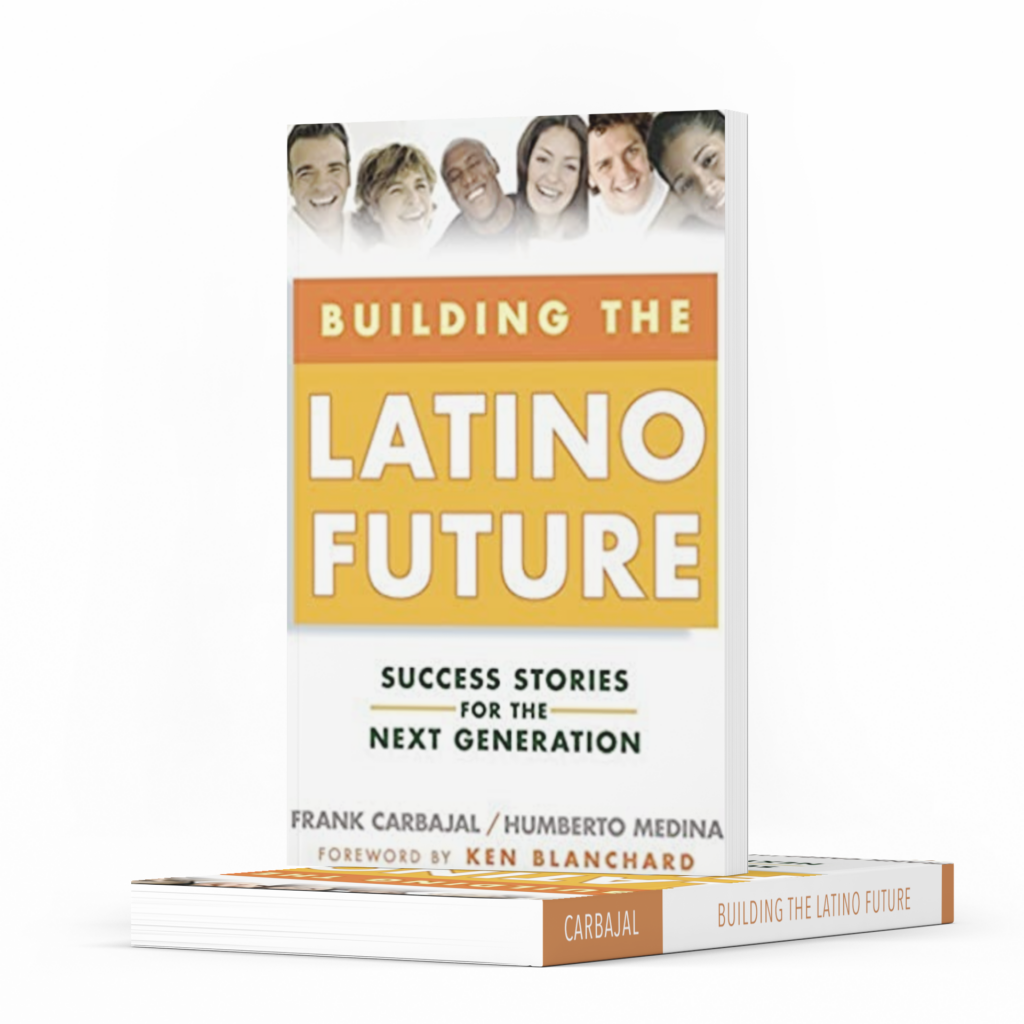 BUILDING THE LATINO FUTURE
An inspiring collection of success stories from the country's most prominent Latinos, Building the Latino Future offers and inspiration and advice for Latinos in any industry who want to succeed spectacularly. The future is bright for America?s Latino community; this book lets you learn from the success of such luminaries as actor Edward James Olmos, New Mexico Governor Bill Richardson, former housing secretary Henry Cisneros, NPR correspondent Ray Suarez, and many more
Events
We promote and organize important events that give space to our latino community to learn and lead, check out these events.
all events
Schedule a coaching, speaking, or training engagement
see what some of our clients are saying
Nina Vaca
Chairman & CEO, Pinnacle
Alejo Velez Ramirez
Co-Founder, Back to the Roots
Kai Huang
Co-founder of RedOctane
Martin Mares
CEO, Ivy League Project
Gideon Lustig
Former Deputy Consul General of Israel
The Silicon Valley Latino Leadership Summit brings together influential leaders from various sectors and industries from around the country with the purpose of fostering growth in the Latino leadership community. It was a pleasure to serve as the keynote for the 5th Summit — a testament to the influence and impact that Frank and the SVLLS has had. Organizations like this have never been more important to the development of the Latino professional. I congratulate Frank on five years, and I look forward to seeing what he has planned for the next five.
Nina Vaca
Chairman & CEO, Pinnacle
It's a huge honor to be part of this amazing organization that shows you first-hand that small steps taken together as a community will change business as we know it today!.
Alejo Velez Ramirez
Co-Founder, Back to the Roots
The Latino Summit was a fantastic opportunity to meet and learn from leaders, successful business men and women, community leaders, entrepreneurs, and young, aspiring leaders of tomorrow.  I thoroughly enjoyed having the chance to meet with such a diverse group of people, hearing about and sharing experiences and stories, and believe it would be a valuable experience for anyone.
Kai Huang
Co-founder of RedOctane
The Silicon Valley Latino Summit is one of America's premier Latino networking conferences for students and professionals alike. The conference brings together some of American's most brightest and talented Latino Professional Leaders and students across the country. The conference allowed my Ivy League Project high school students and I an opportunity to interact with business, political, and other visionary leaders from Stanford, Harvard, and Yale Universities. The Silicon Valley Latino should be recognized, supported, and applauded for organizing a progressive and visionary conference.
Martin Mares
CEO, Ivy League Project
After attending the Silicon Valley Latino Leadership Summit, I am impressed by the passion, intelligence, and entrepreneurial spirit displayed by the participants at the conference. The Latino community here, much like the Israeli business community, is continuously seeking innovative ways to achieve great things – both as individuals, and as members of their communities. At this summit, I found that it is the shared spirit and values that encourages the Israeli and Latino communities to turn ground-breaking ideas into ventures that contribute to society and community building.
Gideon Lustig
Former Deputy Consul General of Israel